How to create engagement in sports with technology?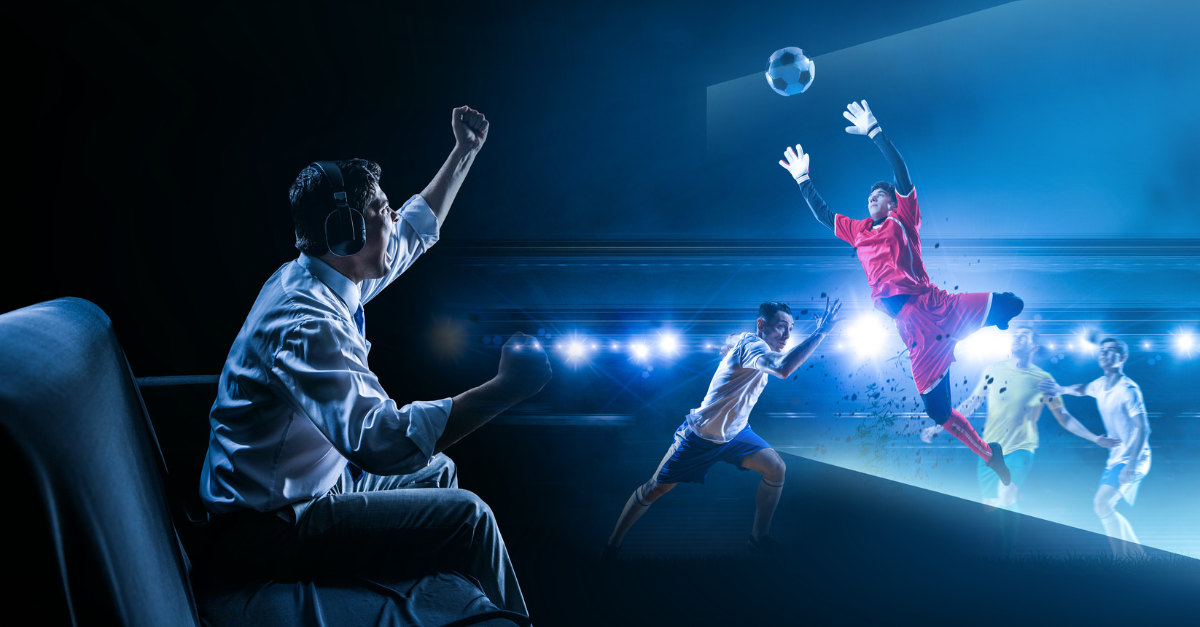 In the case where fans are not able to travel to certain sports competitions, technology and digital are even more important. Federations and clubs are therefore led to reflect on and implement actions to include fans in their sports project and in the life of their favourite team.
Virtual worlds and metaverses, virtual reality, augmented reality, gamification or NFTs can be the ingredients to take up the challenge: these are the technologies we will discuss in this article.
Virtual worlds for a total immersion

Virtual worlds and the metaverse are revolutionising the way people consume sports. They allow for total immersion in a world, but also a unique community.
Imagine being able to bring your fans together in a virtual world with their avatar, let them interact with players and staff, buy and wear their favourite club gear as they walk through the shop, and watch games and important events together. In this context, geographical and physical barriers are removed. This can create experiences unthinkable in the physical world, such as allowing fans of an entire team to hold the World Cup trophy.
With virtual worlds and the metaverse, fans will no longer only be present at sporting events, but at the heart of them while staying at home. We can envision allowing fans to experience the pre-game and the actual game with the players without having to travel and without knowing the limitations of ticket availability.
Augmented and virtual reality for personalised competitions

In recent years, augmented reality (AR), virtual reality (VR) and also mixed reality (MR) have changed the way we experience sports.
Virtual reality is an immersion in a virtual world created entirely by humans and accessed through a virtual reality headset. Augmented reality does not require headsets, but only a mobile device (smartphone or tablet) that allows virtual objects to be superimposed on the real world.
Offering content and experiences through AR and VR allows fans to be fully immersed in the life of their team. Whether it be access to players' avatars in AR, live statistics displayed on the screen, access to the dressing rooms and tunnel with the players, or the reproduction of the stadium so that fans can walk on the pitch as proposed by AS Monaco… the possibilities are endless.
We know that fans want to enhance and extend the emotion of the competitions they follow with a more direct and personalised interaction. That's where AR and VR come in for clubs and federations: they can provide entertaining and immersive experiences for fans across borders. This is particularly important when some competitions are relocated across several countries (Men's World Cup 2026 in the USA, Canada and Mexico) or are in countries that are difficult or expensive to access (Men's World Cup 2022 in Qatar).
Gamification for an engaged fan base

As sport becomes more and more about entertainment, hence the term 'sportainment', gamification allows sports teams and federations to reach fans like never before and above all to engage them with fun and participative content.
By integrating a playful part to sports through gamification, it attracts younger and less traditional sports-oriented fans (watching a game passively on the couch for example). Adding a more action-oriented dimension creates more interest when watching or playing a sport.
The creation of the Fantasy League is a good example of gamification and in particular for the promotion of a sporting event. This feature was widely used during the UEFA Women's Euro 2022. It allowed fans who were more or less familiar with the women's national teams to get to know the players better. As well as providing additional entertainment for the competition, it ultimately helped to raise women's football to the same status as men's football in terms of fame and media coverage.
NFTs, for unique experiences

Often in the news for almost two years now, NFTs are non-fungible tokens, i.e. certificates of ownership of digital goods, an image or a sound for example. NFTs are certified, authenticated and tracked using specific blockchain protocols. These protocols allow full traceability of the purchase, but also of the resale of NFTs. For each resale, the creator of the NFT gets royalties.
The strength of NFTs is that they can link the digital experience with the physical experience by extending the latter. To bridge the gap between the physical and the digital, NFT tickets for events reinforce security and eradicate the problem of counterfeit tickets thanks to their traceability. They also make it possible to maintain a privileged link with ticket holders after the event by creating an exclusive community or by offering them private sales. It is also possible to go the other way, from digital to physical thanks to NFTs. This is what Socios' fan tokens offer: holders of these NFTs can participate in concrete decisions for their club. Juventus fans were able to choose the design of the team's bus for example.
In the field of sports, NFTs can therefore have a variety of purposes, but they all share one thing in common: rarity. This technology offers sports fans, wherever they may be, unique experiences, and special moments for both players and NFT owners.
Technology at the service of sports
These technologies are, without a doubt, an integral part of the future of sports. Organizations need to think about which technologies to invest in to make the most of the ever-increasing fan interest in their use.