Gamification and Spectator Sports: Perfect Teammates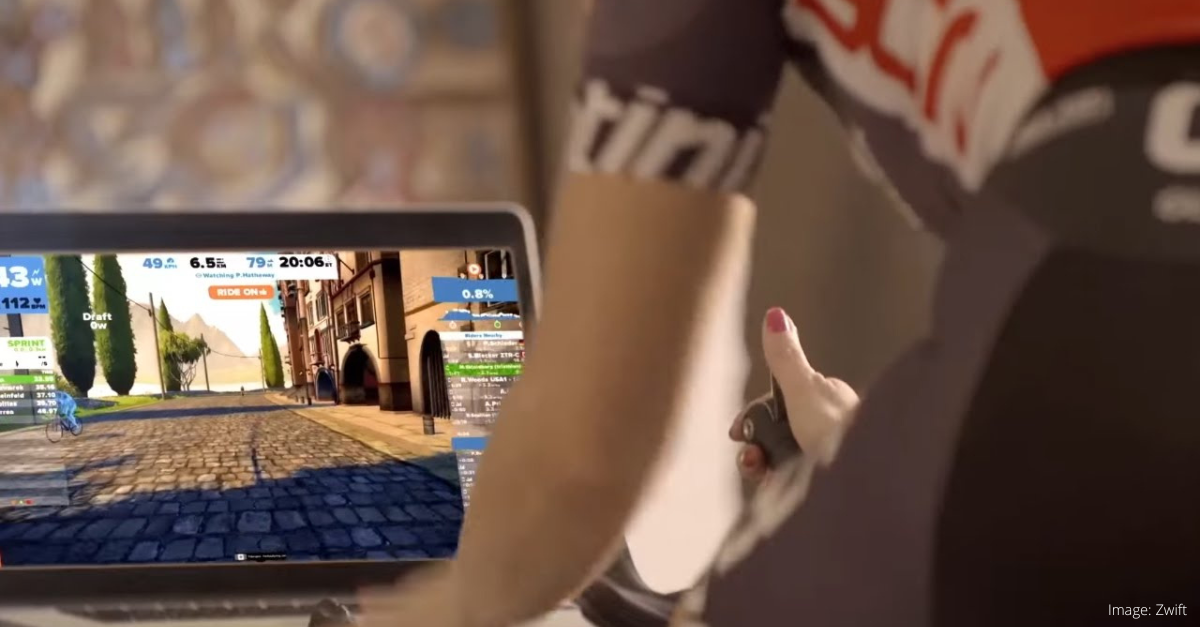 Gamification and Spectator Sports
The professional spectator sports industry is huge. The size of the sports industry is expected to be $181.47 billion in 2022. This industry will experience an astonishing compound annual growth rate (CAGR) of 42.8% from 2021. Not surprisingly, a significant part of this resurgence in 2022 will be mostly due to the world 'returning to normal' after the huge downturns in sports attendances as a result of the COVID-19 pandemic.
The upsurge in spectator sports this year will also be courtesy of 2022 being a dense year for sport. The 2022 Winter Olympics have concluded in Beijing, and the world's biggest single-sport event, the quadrennial FIFA World Cup for football, will be held in Qatar in November. Just around the corner too will be another large single-sport event, the 2023 Rugby World Cup, not to mention the biggest one of them all, the 2024 Summer Olympics to be held in Paris.
The gaming world is even bigger, and it is growing exponentially: the online gaming industry is now worth $300 billion, almost double its worth in 2020, when it was at $160 billion. This phenomenal growth has been fuelled by gaming's popularity, with an estimated 2.9 billion active players worldwide – and growing. Enter sports gamification, which is the perfect melding of gaming and spectator sports, in which digital technology takes fan engagement to the next level. This article will explore the essentials and exciting potential of sports-related gamification.
Gamification Essentials
The term 'gamification' is a relatively new term, having allegedly first been coined in 2003 by Nick Pelling, a British computer programmer and inventor, and the first annual Gamification Summit was held in San Francisco in 2011. The Cambridge Dictionary has defined gamification as, "the practice of making activities more like games in order to make them more interesting or enjoyable". It applies game principles and mechanics to non-game activities and contexts in order to improve engagement. One of the most famous examples of gamification is Duolingo: its massive use of gamification aims to make learning a language easy and entertaining. 
There are gamification fundamentals used in many forms of online gaming, of which the most common four are:
Value proposition: the process needs to draw people (i.e. players) in and make it worth their while.
Retention: the 'gamified' experience needs to be spread out and have limited events per session, so that those who have the experience will want to return and experience it further.
Re-engagement: users need to re-engage with the game, often in the form of -bonuses' or 'deals and other incentives.
Unpredictability: the experience cannot become repetitive or boring, and thus playing options need to be varied and unpredictable.
The Gamification of Sports
The gamification of highly popular, global activities such as sports was inevitable, especially in the context of increasingly entertainment-driven sports in what has been dubbed 'sportainment'. Unsurprisingly, this appeal was also accelerated by the pandemic, as people found themselves indoor-bound and leading more interior, online lives due to lock-downs and social distancing rules. Gamification allows sports teams and federations to reach out to fans like never before, and, critically, to engage them, so that they become firmly-committed fans through cutting-edge and immersive sports content. 
It has even been suggested that gamification is a game-changer, as it alters how many people interact with sports as spectators. How so? One important example is that of young sports fans known as 'Generation Z,' or those born between approximately 1997 and 2012. Alarmingly for the sports world, Gen Z is simply not as sports-hungry as the previous Millennial generation (i.e. those born between 1980 and 1997). 
A 2020 Morning Consult survey proved the point: Gen Z youth are half as likely to watch live sports regularly as Millennials, and twice as likely to never watch. The generation gap was even starker on the male side, with 58 percent of male Gen Zers identifying as an 'avid' or 'casual' sports fans compared to 75 percent of all adult men, as can be seen in the graphic below: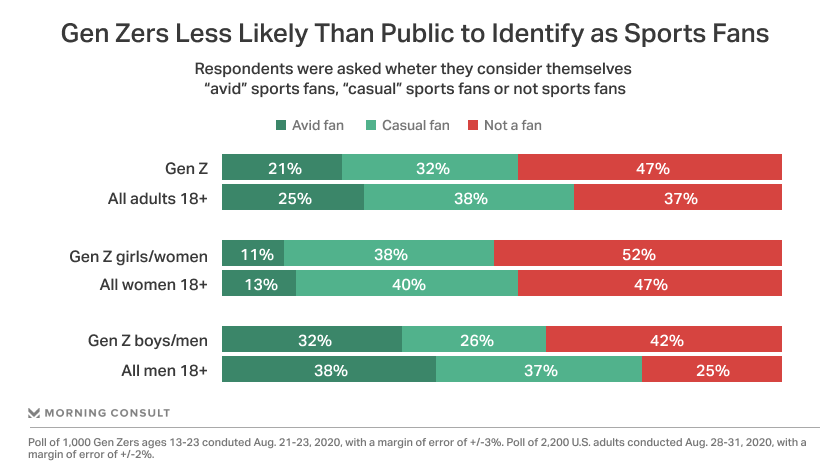 The bottom line is that a younger generation brought up on smart technology craves interactive content that allows them to be part of a sports game, as well as new forms of engagement during sports events. A sport that has become actively gamified is Formula E. This electric motor racing series has a host of interactive features that have been designed to fuel spectator excitement and engagement throughout a race. One example is the 'Fanboost' option, which allows fans to vote for their favourite driver. 
Fanboost awards the five most-voted drivers with a five-second additional boost of power as they race. This gamified feature has already directly influenced the outcome of races in this series, much to the chagrin of motor racing purists! But there is no denying that gamification has helped Formula E tap into the all-important youth market.

The Fundamental Importance of Sports Gamification
Sports-related gamification is not simply a 'nice-to-have' marketing add-on or gimmick. As seen in Formula E, gamification can directly impact sports events and even shape their rules. It can also be an 'ally' for sports in a variety of different ways and on an ongoing basis, with sports broadcasters realizing the potential of gamification in ensuring engagement and retention. 
For example, Radio Télévision Suisse (RTS) in Switzerland had a software development kit (SDK) developed by Riplee called 'Challenges' that can be embedded in many of its customer apps. It allows users to actively engage with sports events via gamification based on interactive quizzes, points, awards and other game factors. With Challenges, RTS won an award in 2020 for the best digital communication campaign in the sports industry.
Virtual reality (VR), which requires a headset in order to play, and augmented reality (AR), which does not, are digital technologies based on artificial intelligence (AI) that will further shape the next revolutions in the sports world by allowing sports fans to be immersed or more actively engaged with sporting events. And what better way to do it than with gamification?  Consider that 75 percent of the world's population (including almost all smartphone owners) will be frequent users of AR in 2025. Couple that with younger (and even older) generations that are obsessed with gaming, and it makes perfect sense that gamification will be fundamental to sports marketing and growth. 
The expectation of fans will be that teams and sports they support offer them increasingly unique experiences via AR and VR. Fans may want to 'wear' their favourite football team's jersey or be able to play against a star player's avatar using AR. VR could take it even further, with fans being able to watch a game in the arena or visit the arena whilst doing so virtually from the comfort of their own home. With AS Monaco, Riplee already created such an experience. Fans can visit Louis-II stadium and explore AS Monaco's history in VR. 
The proliferation of 5G networks will allow greater numbers of players to have access to uninterrupted and even faster gaming experiences, thereby allowing sports gamification to derive economies of scale benefits as access becomes cheaper and more technologically viable. For sports broadcasters, teams and owners, sponsorship opportunities will also become more varied and sophisticated with AR and VR, since brands can be displayed more interactively to users, both expressly and subliminally. 
Endless possibilities
There is no denying that the sky is the limit regarding sports gamification. Fans will increasingly become part of the sporting event, shaping it to their preferences. Sports professionals will use VR to enhance their physical and mental fitness in what is known as 'neurotraining'. Broadcasters and sports teams will find ever-smarter ways to engage fans and grow remote and virtual attendances.