Challenges and future opportunities for OTT services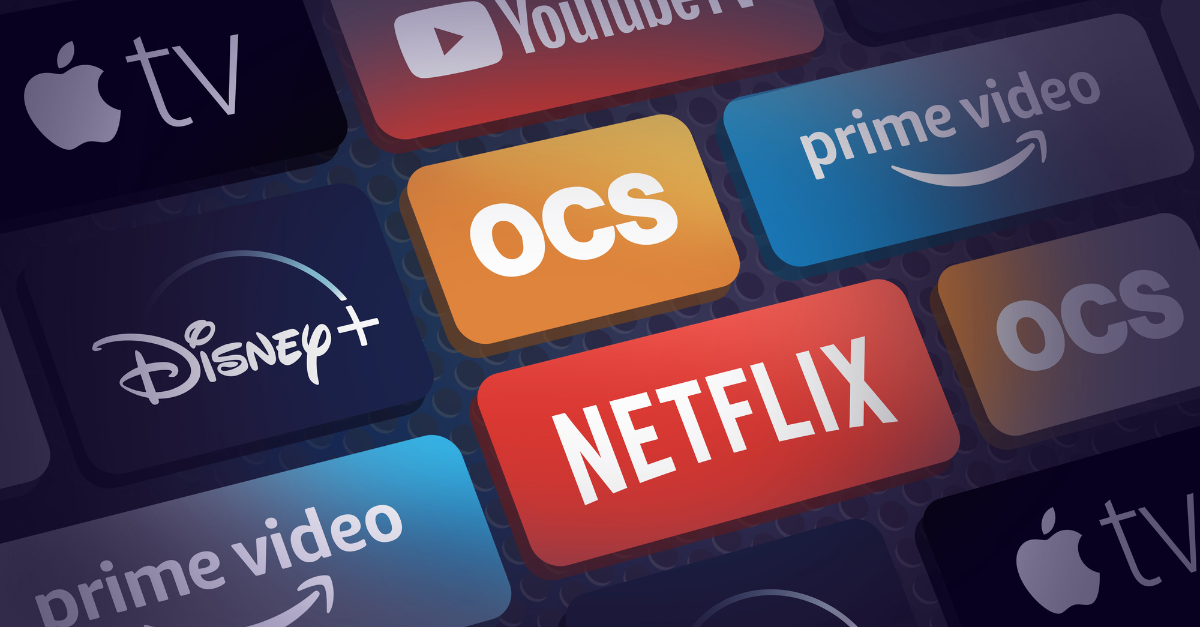 OTT: what are the trends, challenges and future outlook for these fast-growing services?
Context
What is OTT?
An OTT (Over The Top) service offers an online platform where anyone can access the proposed videos they want. The user does not necessarily need to download the content, as everything is already available on the platform's servers. The content of OTT platforms can be viewed on different screens (TV, PC, tablet, smartphone, game consoles…). This basis is common to all OTT platforms, but there are different business models for OTT platforms:
SVOD: Video on demand by subscription such as Prime, Netflix, Disney+.
TVOD: TV on demand "rent or buy" such as Amazon, Google Play and Apple TV
AVOD: Video on demand with advertising such as PlutoTV, Tubi or 6play
The impact of OTT
In France, SVOD continues to gain ground. There were 78 SVOD services at the end of 2021 compared to 63 in 2017. 46% of French people have at least one subscription and 8.3 million of them use their SVOD services every day. The leaders in SVOD in France are Netflix (80% of French VOD consumers who paid for these services in 2021 have Netflix), Prime (56%), Disney+ (39%).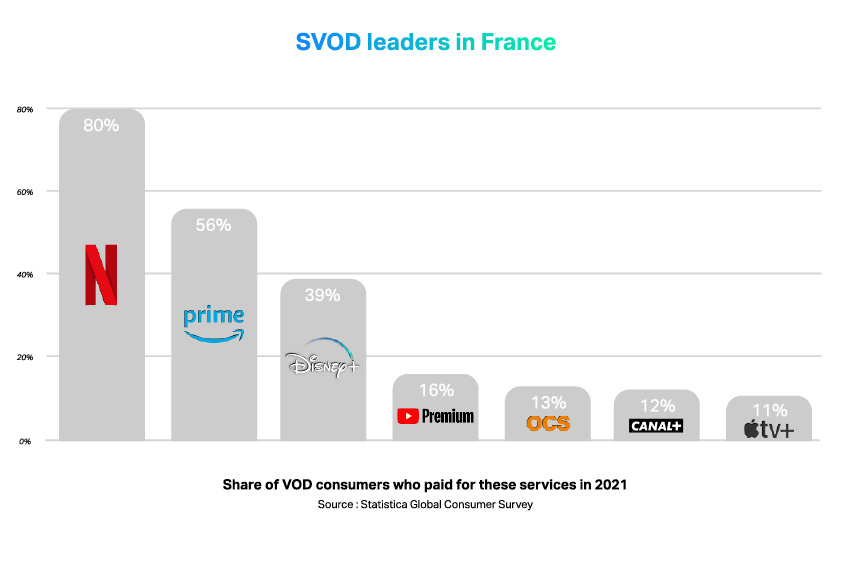 Regarding AVOD, Hulu was the first in 2015 to offer this type of subscription to the American public at a reduced price but with the presence of ads. Today, the success of AVOD (discounted or free) is undeniable with 127 million users in the United States, a figure that is expected to climb even higher with future AVOD offerings from Disney+ and Netflix.
In France, AVOD is still timid and is mainly limited to a high proportion of AVOD platforms for live and replay of linear TV. But France is gradually catching up, especially with the arrival of Rakuten TV, Pluto TV or Molotov's AVOD channel Mango. The leaders in AVOD in France are currently YouTube (69% of connected TV owners in France watched YouTube in 2021), MyTF1 (65%) and 6play (59%).
The outlook for the OTT market
The prospects for OTT services are immense. Several studies show that Europeans will spend 33.6 billion euros on OTT services by 2026 and that there will be 234 million subscriptions to SVOD services. With the exponential growth of AVOD, this service is expected to generate $39 billion in revenue worldwide by 2026.
In addition to the additional budget allocated to OTT services, the amount of time spent watching content available through them has increased significantly. Currently, 78% of French people watch streaming TV content at least once a week and globally, the time spent on video streaming apps has grown by 32% with the pandemic. In addition to the increased time, the number of SVOD services owned per household will grow from 2.1 to 2.4 by 2024.
The rise of streaming, especially in France, creates new advertising opportunities. Reaching consumers while watching their content is an efficient way to reach a qualified target. According to a CTV study, 64% of the AVOD audience performs a concrete action (internet search, purchase…) after having seen an ad.
In addition to the streaming giants such as Netflix, YouTube, Disney+, etc., we find more and more niche OTTs around manga, specific sports, auteur cinema, but also live performances (classical music, opera, theater, musicals…).
Challenges
The main challenge for OTT services is to be as close as possible to consumers' expectations. Each player in the sector must find a way to respond to the major issues of mobility, personalization and subscription fatigue while standing out from its competitors.
Mobility
To watch their content, consumers use nearly 2 screens. While television remains the screen of choice for many, laptops and smartphones are also favoured by nearly half of all users.
Being present on all screens is therefore of major importance to align with the consumption of video content and is a prerequisite to enable everyone to watch their videos in all circumstances.
Ensuring consistent quality
In public transport or on the move, users watch video content in various contexts and more and more in mobile situations. This major practice creates high expectations in terms of interface and downloadability.
However, 85% of people watching OTT services on their smartphones say they have had frustrating experiences, especially loading problems. It is therefore essential for OTT services to address this issue.
Personalization
An OTT service that fits your users
Users must be able to navigate easily through the content offered. For this, the UI design is essential to consumer satisfaction, but also more broadly the UX design with recommendations based on preferences, profiles of each family member and targeted notifications. It is on these criteria that they recommend a service to their relatives.
The main objective of personalization is not only to make content easily accessible to consumers, but also to guide them quickly to the content most likely to interest them in the catalog.  This is an expectation expressed by 81% of OTT consumers.
Reducing decision fatigue
A platform that is closer to users' needs and tastes also reduces decision fatigue. While OTT platforms sometimes bring together several hundred pieces of content, some people need even more time to make a choice and find themselves overwhelmed. Netflix, for example, hopes to reduce this fatigue with the "Play Something" feature, which offers content that matches their tastes.
Subscription fatigue
Decreasing subscription fatigue and churn
Along with decision fatigue comes another source of tiredness: subscription fatigue. With the profusion of choices in OTT services, users have to choose which ones to subscribe to and sometimes be strategic about accessing the content they prefer without blowing their budget. This makes it all the more necessary for OTT services to strike a balance between content quality and user cost. This allows them to counteract their weariness of accumulating subscriptions, but also to fit into their entertainment budget by limiting unsubscribes (churn).
Sharing and gathering OTT content
To avoid subscription fatigue, two practices are developing. First, OTT service aggregators such as ScreenHits TV or Prime Video Channels that avoid users to navigate from one platform to another. Account sharing is another major practice to limit costs, usually to the detriment of OTT providers. The latter are looking, like Netflix, to implement ways to make password sharing payable.
Future
The trend of transforming OTT platforms into full entertainment ecosystems is growing, especially among the streaming giants. Netflix, for example, is making video games a major development focus, while Amazon continues to explore new services such as video game streaming and music. This logic can be adapted to niche OTTs by expanding to all aspects of its speciality, as English National Ballet is already doing with its dance classes.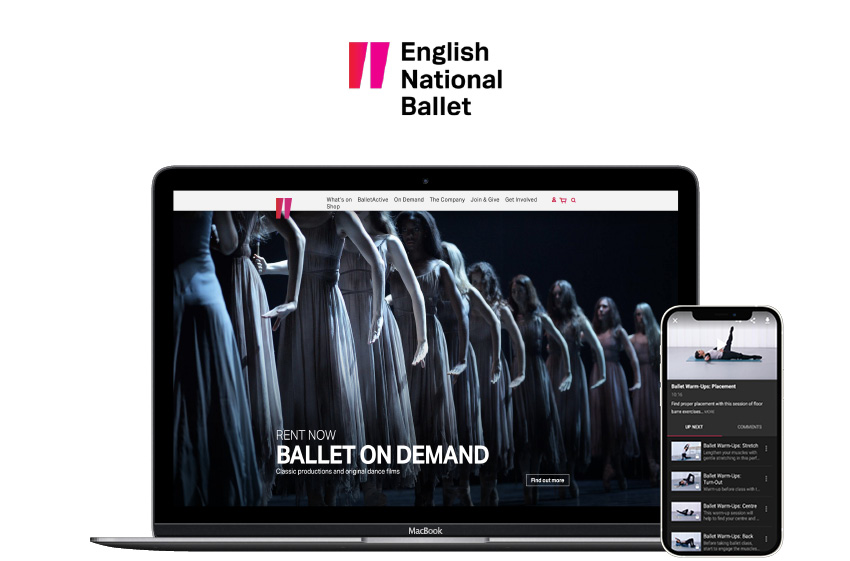 To expand and become entertainment ecosystems, OTT services are investigating other technologies and forms of entertainment, especially VR. Although virtual reality headsets are still not widely available in homes, sales are steadily increasing thanks to the drop in price of headsets, which suggests that VR, and with it the metaverse, will become more widespread in the coming years.
While generalist OTTs are struggling to find their place against giants like Netflix, niche OTTs are successfully establishing themselves. Their strong positioning and specialized offerings attract a more engaged audience, which reduces churn. For example, in 5 years, BroadwayHD has tripled its number of users and this OTT service around musicals is now watched in nearly 124 countries.
Whether it's a live show or a sport, live-streaming is increasingly attracting the attention of streaming platforms. It allows to engage users around events and to introduce a sense of community on OTT services. This engagement can be reinforced by the use of watch parties or gamification mechanisms.
To conclude…
Whether it's SVOD or AVOD, OTT services are already part of the daily lives of many Europeans, and they continue to grow in size and importance. This does not prevent the industry from facing many challenges, ranging from mobile viewing to subscriber fatigue and the development of an entertainment ecosystem.