More ergonomic interface and new features for TV5MONDE's "Apprendre Le Français" learning platform
TV5MONDE and Riplee unveil their work on the new design of the French language learning platform "Apprendre le Français avec TV5MONDE". Created to meet the needs of adults wishing to learn French anywhere in the world, the offer receives an average of 1.6 million monthly visits. It is entirely free and its content is developed by professionals and recognised teachers.
Thanks to the collaboration between TV5MONDE and Riplee, the offer has been redesigned with an optimised and modernised user interface.
After more than a year of exchange and collaboration, the platform has undergone numerous transformations. In-depth work on the UX, UI and user path has enabled the French-language channel to offer its users a version of its web platform that is more ergonomic and better adapted to an educational objective. The objective of this redesign was also to bring the web version closer to the application, for a harmonised experience between the two media.
Among the new features deployed are:
New menu: simpler navigation and an optimised learning path including, in particular, the highlighting of the different language levels followed by learners and an "explore" tab to access thematic content.
New exercise interface: the platform has a clearer and more modern design, for use on computers, tablets and smartphones.
Première Classe with TV5MONDE: the course pages for the beginner level have been redesigned to highlight the progress of learners with the help of graphics.
Dashboard: the user can easily find all the exercises completed, with the results and levels of achievement for each category of exercise.
Help: its access has been redesigned to make it easier to find explanations of grammar and vocabulary, with filters by category and level (A1, A2, etc.).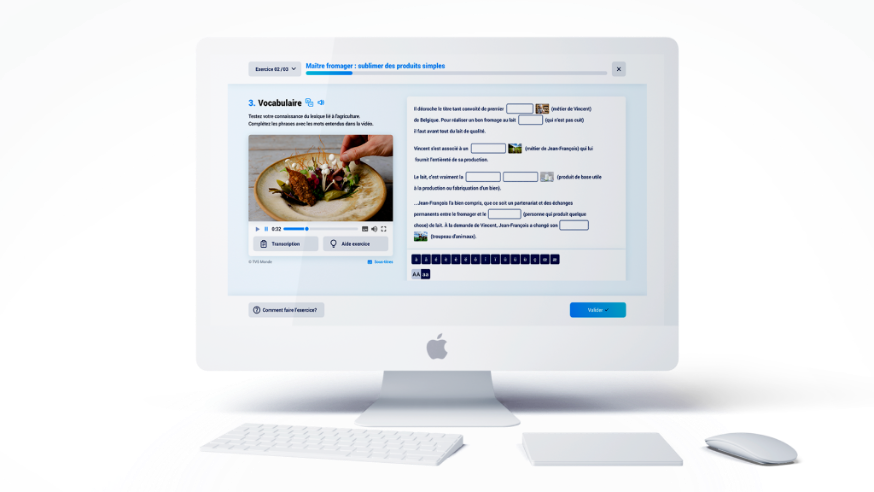 Discover the new interface: https://apprendre.tv5monde.com/en